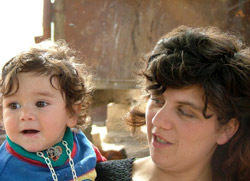 I just read a poignant photo essay about the maternity drive in Nagorno-Karabagh published by the New York Times called The National Womb.
The NK government is encouraging young families to have babies by giving them incremental sums of money for each additional child they rear. After the sixth child has been born the family is given a home. Unfortunately there is no other way to keep the population there somewhat steady. As in Armenia, the youth are emigrating in search of better opportunities elsewhere. Lucrative business ventures to employ people are few there.
I was in Nagorno-Karabagh in July and couldn't help but notice that areas of the countryside seemed bare of residents. The capital Stepanakert is a lively city but Shushi, which is far more picturesque, still seems neglected, despite all the work being done there to repair the infrastructure and open new hotels to attract visitors.
The entire region needs settlers and money so that society can advance. Compared with Armenia corruption is apparently very low, so I don't understand why the willingness to invest in Nagorno-Karabagh more aggressively is not there. Perhaps daily flights between Yerevan and Stepanakert, hopefully to start next year, will entice that much-needed investment.
In the meantime, many babies are needed. But the question as to whether the parents of those families will be able to consistently provide remains to be answered.
Incidentally, I wanted to mention an excellent article published by Hetq last June  called On That Side of the World about life in Kashatagh, where there are no normal roads or even electricity, and where Armenians who sacrificed life in civilization choose to survive. I cannot imagine living without electricity and I don't understand how they do it. The heartbreaking thing is that no one cares, not the governments of Armenia or Nagorno-Karabagh, and not the Armenian Diaspora. They just linger there, waiting for someone to pay attention to them, waiting for something to change that never does.